Last July, the James Webb Space Telescope (JWST) captured in fine detail the swirling dance of dust and gas emitted by a dying star in the Southern Ring planetary nebula.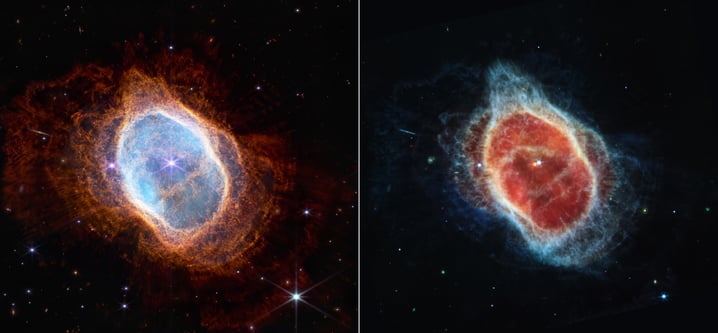 Image credit: NASA, ESA, CSA, and STScI
As the dying star continues to emit gas and dust, the interaction with a nearby star "stirs the pot," creating unusual patterns. These interactions create gaps through which rays of light come streaming through, while the stream of dust and gas contributes to the ever-changing landscape of the nebula.
Lessons from a dying star reveal that our dying affects our neighbors!
Dying to Oneself
"Whoever wishes to come after me must deny himself, take up his cross, and follow me."
—Mark 8:34
Like the message in the image of the dying star, this Gospel passage reminds us of the importance of dying to oneself. The three traditional Lenten practices require self-denial–a focus away from the needs and desires of the self. Prayer involves the gift of our time and attention, fasting directs our gaze again outward, denying our natural urge to satisfy hunger and thirst (or sweet things or digital entertainment!). Lastly, giving alms means giving of our substance, not our surplus, to help our neighbor in need. As St. James reminds us:
If a brother or sister is without clothing and in need of daily food, and one of you says to them, "Go in peace, be warmed and be filled," and yet you do not give them what is necessary for their body, what use is that? —James 2:15-16
Are There Other Ways of Dying to Oneself?
So often, the faults and the temptations that assail us come sneaking in under the guise of some virtue. We can become wedded to our opinions about a person, a situation, or a problem in the family or the larger community. We are, of course, basing our opinions on the highest standards of moral integrity. . . or so we think!
The Positive Psychology and resilience literature describes eight thinking traps we can fall into. One of the key traps is the belief that we KNOW what another person is thinking or what motivates them. The "insight" from the "mind-reading" trap can be completely false. We need to die to our opinions and prejudices.
We need to let go of our judgments of others. Judgment often springs from a negative interpretation of their character, not just their actions. Such thinking may spring from a second trap of "jumping to conclusions" or even just "focusing on the negative." Like the mind reading trap above, we respond impulsively without verifying the truth of what is being said, or we see only the negative qualities or aspects of a situation. Even if there is truth in the report, we should hesitate to pass judgment and discuss it with others, especially if they are accused of some sin. There is no danger of detraction, we think, well, because everyone knows about it. Pope Francis, however, spoke about the poison of gossip early in his pontificate:
Jesus offers the example of the Fifth Commandment, "Do not kill," and goes on to add, "but I say to you: Whoever is angry with his brother will be guilty before the court." With this, Jesus reminds us that even words can kill. . . . Therefore, not only must one not make an attempt on the life of others, but one must not even pour on him the poison of anger and hit him with slander, nor speak ill of him. And here we arrive at gossip. Gossip can also kill, because it kills the reputation of the person.
We can be justifiably concerned about the faults of others, the craziness of the culture, the troubles in the parish, the school, and the Boy or Girl Scout troop. However, this focus on the "bad news" creates a downward spiral. We fail in charity because we focus not on what is good in that person but on what is wrong. There are other problems, too.
Negative Thinking
What else can that kind of negative thinking do to you?
Listen to Dr. Friedmann Schaub, MD, Ph.D., who specializes in cardiology and molecular biology. He is the author of The Fear and Anxiety Solution: "The nervous system reacts to negative emotions by releasing stress hormones, which affect the body in many different ways." These include increased blood pressure, heart rate, and muscle tightening. This state of negativity ultimately can affect your immune system, making you vulnerable to an increased risk of heart disease, cancer, and autoimmune diseases.
The beautiful thing about the Christian way of life is that we have motivations beyond just our physical health. Listen to the wisdom of the early Church Father, St. John Chrysostom (A.D. 347-407):
The fast of Lent has no advantage to us unless it brings about our spiritual renewal. It is necessary while fasting to change our whole life and practice virtue. Turning away from all wickedness means keeping our tongue in check, restraining our anger, avoiding all gossip, lying and swearing. To abstain from these things—herein lies the true value of the fast.
As the season of Lent gives way to the joys of Easter, may you find yourself renewed in spirit and with an increased love of God and neighbor!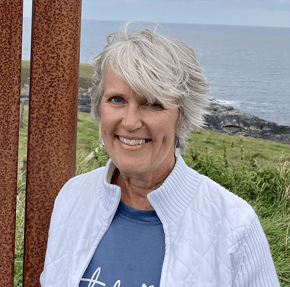 Maggie Ciskanik, M.S., MSc.
Maggie Ciskanik, MS, MSc, has been a neurological nurse, an educator, and a writer. Her interests, life experience, and education have put her at the crossroads of the philosophy, theology, and science of human flourishing. With a bachelor's degree in Philosophy, an MS in Nursing, and an MSc in Applied Neuroscience, she strives to share scientific information from a faith perspective. Her interests range from the relationship between health and cognitive function to the neural correlates of free will, creativity, and the human experience of transcendence.