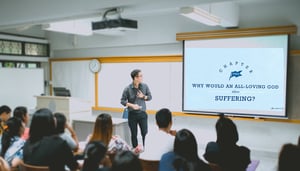 The Essential Modules
Seven video presentations that provide concrete answers to students' most challenging questions on the faith.
Access The Essential Modules
Access all 7 modules below and check out supporting resources including: student textbooks, teacher guides, and "Fr. Spitzer's Resource Book," which is the text foundation of the Modules.
WHY THE ESSENTIAL MODULES?
Surveys show that young people leave religion due to a perceived contradiction between faith and science and/or a lack of evidence for God. The Essential Modules aim to stop this trend by providing science-based, contemporary evidence for God, Jesus, the soul, the Catholic Church, and her moral teaching. The modules cover: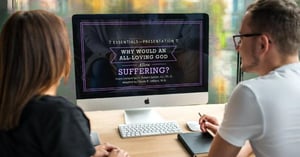 Students, start learning with the FREE Online Student Course!
A great option for hybrid and home learners, our free Online Student Course guides middle and high schoolers through the Essential Modules.
This class helped me grow my faith as a Catholic Woman by reconciling any doubts I may have had about the faith. This class reaffirmed my strength in the faith with concepts many struggle with, such as the debate between science and faith. This course will help me spread the word of God by allowing me to deepen my relationship with Him and to become more educated on parts of the faith I was unaware or unsure about previously.
Throughout this course of faith and reason, there have been many informative, valuable lessons incorporated into the unique understanding of Catholicism. This class has not only provided us with a different perspective of our faith, but a stronger connection to God within this course, as well. While diving into the building blocks of faith and reason, I have developed a deeper meaning as to how my faith influences my decisions and critical thinking, and what that means for my future ahead.
This course had a major impact on my faith, as it made me learn about how the afterlife works, why we suffer, how to be happier in this life and the next, and this course even showed how science backs up the Catholic faith and how they work together, rather than being apart, which is the common misunderstanding.
This course of Faith & Reason was the most beneficial religion class I have ever taken in high school. What I was taught in this class, I can actually understand and use in a debate about religion and the existence of God. I learned valuable scientifically-proven theories and facts that prove God's existence that I hadn't known in all my years of private (Catholic) schooling.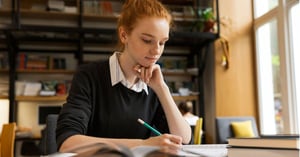 GET THE MOST OUT OF THE ESSENTIAL MODULES
Whether you're teaching them in a classroom or using for self-study, here's how to get the most out of the Essential Modules.
Read Fr. Spitzer's Resource Book
Check out Fr. Spitzer's Resource Book, your companion to the Essential Modules. Fr. Spitzer's Resource Book dives deeper into all the topics discussed in the Modules.