Magis Institute for Clergy
Ongoing formation of priests and deacons—solidly grounded in Catholic tradition with the best of positive psychology and contemporary leadership insights.
Take the 'Journey to Joyful Holiness'
Magis Institute for Clergy's core program, Journey to Joyful Holiness, is a three-phase, multi-year program addressing the challenges that tax the time, and mental and physical resources of our priests. Whether it's a clergy convocation, deanery seminar, or individual diagnostics, we walk with clergy to deepen spirituality, foster fraternity and unity, and renew the culture of the presbyterate.
PHASE 1: The Four Levels of Happiness®​ Seminar

The Journey to Joyful Holiness begins by exploring a topic foundational to human nature—namely, our universal desire for happiness. The Four Levels of Happiness® seminar helps priests better understand the four drivers of all human behavior and habits, and ultimately their impact on the culture of the entire presbyterate. Read the program summary and learn more about the Four Levels of Happiness.

PHASE 2: The Presbyteral Culture Inventory® (PCI)

Developed in collaboration with a diocesan council of priests and the Peirce Group, the PCI gathers insights into the hearts, minds, and souls of your priests and identifies the biggest gaps between the priests' ideal cultural and current reality. Inspired by ideal behaviors cited in Vatican II's Presbyterorum Ordinis, the inventory focuses on three key areas of priesthood: 1) satisfaction with priestly identity, priestly service, priestly life, and presbyteral fraternity and unity; 2) priestly spirituality; and 3) priestly self-efficacy and sense of success in parish.

PHASE 3: Ongoing Renewal

The work of renewal is ongoing. Throughout the Journey to Joyful Holiness, priest are continually edified and equipped. By engaging in a long-term relationship with the priests, they are able to bear fruit in their lives and the people of the diocese. We also offer additional services to complement ongoing culture renewal. See our services for Ongoing Renewal.

THE RESULT: Faithful and Joyful Priests

Clergy are equipped with the quality and delivery of their pastoral and spiritual services with strengthened morale and team behaviors within the diocese.
"A vision for the diocese has to be received in a shared culture. The 4 Levels of Happiness helps us do that. It gives us a common language and understanding and the ability to look at motivations and ways of making decisions."
"The Journey to Excellence program speaks to everyone, no matter where they are in their life journey. The solid philosophical principles rooted in our Catholic tradition foster personal insight for us individually and improve our ability to collaborate together for common goals."
"Our seminarians found the exploration of the virtues to be illuminating, inspiring and practical for their growth in maturity and holiness."
"The more I study Fr. Spitzer's insights about building the Kingdom of God, the better do I realize the impact it would have on the Church . . ."
"Our staff particularly appreciated the rich Catholic intellectual heritage upon which the programs are founded, especially the virtuous life and the formation of habit."
"I find myself continually going back to Fr. Spitzer's concepts, especially on the higher levels of happiness. They help me to check my own motivations and to direct others."
"Fr. Spitzer's Journey to Excellence has had a wonderful effect on our parish and school staffs. It is spiritually uplifting, humanly insightful, and eminently practical. We hope to spread this message to our parishioners."
More about Magis Institute for Clergy
Magis Institute for Clergy (formerly Spitzer Center) exists to empower Catholic clergy to optimize the quality and delivery of their pastoral and spiritual services, and to strengthen morale and team behaviors. We do this through a unique blend education rooted in the Four Levels of Happiness and built upon classical philosophical and Catholic theological insight. We are:
Catholic: our curriculum is built on the rock of classical philosophical and Catholic theological traditions. We borrow from Aristotle, Augustine, Aquinas, Scripture, Saints and Doctors of the Church, the Catechism, and Church Documents to provide an accessible teaching of happiness and virtue.
Positive: with findings from the emerging field "Positive Psychology," our approach emphasizes human flourishing, cultivation of the Cardinal virtues, and development of human potential. We teach principles and practical techniques for building good habits and increasing trust and creativity.
Profound: our curricula is not a quick-fix, superficial approach. Rather it is a deliberate progression, over a defined period, toward a clear vision of a dynamic and faith-filled culture.
Multi-disciplinary: our teachings are a synthesis of wisdom from 150 prominent sources over more than two millennia. It represents Fr. Robert Spitzer's research and insights from the fields of psychology, philosophy, theology, and management science.
Engaging: the professionally facilitated series integrates video instruction featuring Fr. Robert Spitzer, poignant and entertaining movie clips, power points, music samples, and online resources. Our method is also highly interactive—with exercises, discussion at table, and personal reflection.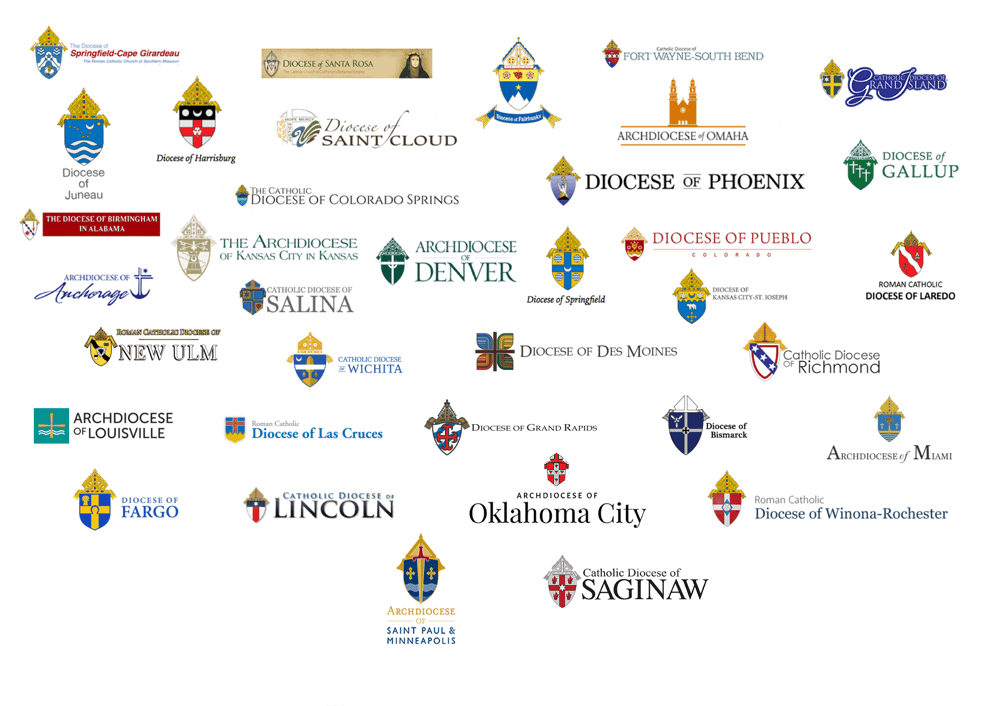 Magis Institute for Clergy Services in support of Ongoing Renewal
Priestly Spirituality Video Series
Priestly Spirituality Video Series
Designed for small groups, this year 1 program is a series of 25 prerecorded episodes. Course objectives are to implement and enhance the Breviary in an inclusive and practical way; deepen relationship with the Lord through contemplation; deepen virtue; enhance awareness of spirituality in priestly leadership; enhance priestly fraternity and unity.
Seminars Designed for Priestly Gatherings
Seminars Designed for Priestly Gatherings
One of the most common questions we receive from priests is how to keep parishioners—and particularly the youth—in the Church. Developed by Fr. Robert Spitzer, we offer a variety of educational topics to help people discover the intersection of science, reason, and faith, including topics that address the existence of God and soul, the divinity of Christ, Eucharistic and Marian miracles, and more.
Confidence and Providence Series
Confidence and Providence Series
The Confidence & Providence Series are given the tools to exemplify the traits of the saints; understand how the mind works, and the power of the subconscious mind; recognize and overcome self-limiting beliefs; regulate self-talk according to the truth; expand comfort zones; enhance willpower and resolutions with imagination and affirmations; learn Ignatian discernment principles for mission clarity
Contact us for more info!
For more info, or to register for the Journey to Joyful Holiness and/or ongoing seminars, please contact us.