From February 11 to July 16, 1858, Saint Bernadette Soubirous met the Blessed Virgin Mary eighteen times at the Grotto at Lourdes, France. Despite the Church's and town's growing hesitation surrounding the Grotto's apparitions and cures, an ecclesiastical committee declared the apparition authentic in 1860.
The Grotto of Lourdes has since become a shrine that receives approximately four million pilgrimages with hundreds of exceptional healings each year. As a result, the Lourdes Medical Bureau was instituted in 1905 to render a judgment that a particular cure was near-instantaneous, efficacious throughout the remainder of life, and, in all other ways, scientifically inexplicable.
Currently, only seventy cases have been recognized as "miraculous," according to the standards of the Bureau. While this does not excuse all other accounts as not miraculous by different criteria, it does mean that only seventy cases are scientifically unexplainable.
While only seventy of the more than 70,000 claimed miracles of Lourdes are scientifically validated, there are three famous unvalidated miracles:
Marie Bailly and the Conversion of Alexis Carrel
Gabriel Gargam
John Traynor
Marie Bailly's Healing Miracle of Our Lady of Lourdes that Converted Alexis Carrel
In 1902, Marie Bailly and Dr. Alexis Carrel's paths crossed on a train from Lyons, France, to Lourdes. Carrel was agnostic (despite his Catholic upbringing) and was set to figure out what scientific reason why so many cures were happening at the Grotto of Lourdes. Marie Bailly was a faithful Catholic traveling to Lourdes to hopefully receive a cure for her acute tuberculous peritonitis and considerable abdominal distension with large hard masses.
When they arrived at Lourdes, Marie received three pitchers of water poured over her stomach—with Carrel close behind taking notes. By the third pour, a fantastical sensation overtook her; her stomach flattened, and her pulse returned to a normal rhythm.
Marie then stood up and the next day was able to attend to herself without help and began her journey home on hard train benches, and seemed to be completely healed. After her healing, Marie joined the Sisters of Charity—to work with the sick and the poor in a very strenuous life—and died in 1937 at the age of 58.
As the rapid and inexplicable cure of Marie Bailly became public, news outlets were publishing that Carrel did not believe that the cure was miraculous. These publications prompted a response from Carrel that the religious community was too quick to assume the nature of the cure and that the medical community was stubbornly refusing the idea the cure may have been miraculous.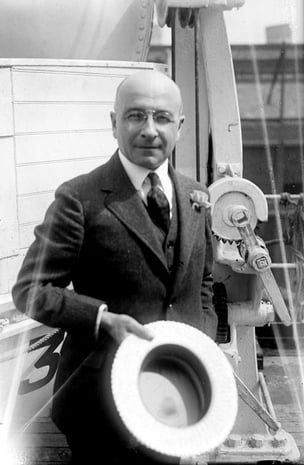 Dr. Alexis Carrel by Bain News Service, publisher / Public domain, via Wikimedia Commons
His response saw reality to his fears, and Carrel's career on the faculty of Lyons came to an end. However, this change in direction led him to receive his Nobel Prize for his work in vascular anastomosis.
Despite witnessing two miracles firsthand (Marie Bailly's cure and the curing of an 18-month-old blind baby), Carrel could still not bring himself to accept and promote the reality of miracles. It would not be until after Sr. Marie Bailly's death that In 1942, Carrel announced that he believed in God, the immortality of the soul, and the teachings of the Catholic Church.
When Dr. Alexis Carrol passed away in 1944, he was read the Last Rites of the Church and joined the Lord in the same faith from his childhood.
The Healing Miracle of Our Lady of Lourdes Received by Gabriel Gargam
The spiritual and physical miracles received by Gabriel Gargam are well-known because Gargam devoted nearly half a century of his life to being a stretcher carrier at the Grotto of Lourdes.
Gargam was born Catholic but left the faith in his early teens. When he left his family, he worked as a traveling mail clerk for the Orleans Railway Company. However, tragedy struck when he was in his thirties—the train he was aboard collided with another, and he was ejected from the train.
As a result of the accident, he was left paralyzed from his waist down. As time passed, Gargam began to waste away and could only receive food (and nourishment) through a feeding tube.
Gargam brought a lawsuit against the railroad company, and he won. He received a total of 6,000 francs annually and an indemnity of 60,000 francs. During the court proceedings, doctors testified that he would be disabled for the rest of his life. There were no medical or scientific means to heal Gargam's injury.
Despite Gargam's lack of faith that led him not to attend church for fifteen years, his Mom remained ever faithful, and his aunt was a nun of the Order of the Sacred Heart. Both women urged Gabriel to travel to Lourdes, and even though he refused, their persistence finally had him consenting to go.
Two years after the railroad accident, Gabriel Gargam arrived at Lourdes. He received Communion and then was taken to the Grotto. However, when the water was poured over him, he felt great pain. He was in so much pain that he passed out, and bystanders believed him to be dead.
As his body was being carried back to the hotel, his group saw a procession of the Blessed Sacrament approaching, where they received a blessing from the Priest. Gargam then stirred and yelled that he could walk.
He began to walk again and then—for the first time in years—had a hearty meal that was not through a feeding tube. He never lost his ability to walk and lived to be 83 years old.
John Traynor's Healing Miracle of Our Lady of Lourdes
John Traynor was born in 1883 in Liverpool, England. His mother died when he was very young, but her lasting memory lay in the faith she instilled in him that he carried throughout his life.
Traynor joined the Naval Brigade of the Royal British Marines and fought in The Great War. During an unsuccessful mission, Seige of Antwerp, he sustained an injury: shrapnel to the head. He remained unconscious for five weeks but eventually rejoined the war efforts.
While in Egypt, he was wounded by a bullet in the leg. Later, in another unsuccessful campaign, the Dardanelles Campaign, Traynor joined a bayonet charge where he sustained a series of machine gun bullet wounds. He was wounded in the head and chest with a bullet lodged under his collarbone after the bullet went through his upper right arm.
Resulting of the wounds of the Great War, Traynor's right arm and legs were left paralyzed, and he became a victim of epileptic seizures (sometimes with three episodes in a single day). After four unsuccessful operations, he was discharged from the service as he was completely disabled.
In April of 1920 (due to all the epileptic seizures), Traynor underwent surgery on his brain. Unfortunately, the operation did not help his epilepsy. In fact, it left a hole in his head where you could see his brain pulsating through it! A metal plate was then inserted to protect the brain.
In July of 1923, Traynor decided that he wanted to make a pilgrimage to the Grotto of Lourdes. He made the difficult trip with a saved gold sovereign and against the wishes of his wife, friends, doctor, and even a priest.
On the journey, the train staff wanted to admit Traynor to a hospital three times, but there was no hospital at any of the stops. By the time he reached Lourdes, he was closer to death than he was to live. He was so dire that one woman took it upon herself to write Trynor's wife, informing her of his worsening condition and that he would be buried at Lourdes.
After nine water baths in the Grotto of Lourdes, during the Eucharist procession, he could use his arms to signal the cross—using his right arm, which had been paralyzed for eight years. Later that night, he could leave his bed and run down to the Grotto. It was there that he prayed and gathered quite the crowd.
Being healed of his ailments, he did what his mother had taught him: made a sacrifice to the Blessed Virgin Mary. He had no money, so instead, he gave up cigarettes.
John Traynor's miracle at the Grotto of Lourdes reminds us of one of St. Bernadette's many lessons: the importance of holding on to your faith in Him.
St. Bernadette on Holding Fast to Faith
St. Bernadette teaches us the necessity and beauty of holding firmly to your faith. Considering that when the Blessed Virgin Mary first appeared to her, she did not know that that was what she was seeing. Instead of being afraid, though, her first reaction was to pray the Rosary. Her faith kept her calm and open to receiving the apparition.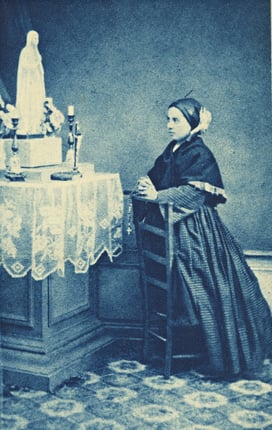 Bernadette Soubirous on a 1962 postcard / Public domain via Wikimedia Commons
Then, we must remember that her claims to seeing the Blessed Virgin Mary were met with much hostility. So much so that the Grotto was blocked off from receiving visitors. But young Bernadette remained strong in her faith and returned to the grotto 18 more times!
May we all be as faithful as her and remember her words:
"If one dream should fall and break into a thousand pieces. . . never be afraid to pick one of those pieces up and begin again. That's the beauty of being alive. . . . We can always start all over again. Enjoy God's amazing opportunities bestowed on us. Have faith in Him always." —St. Bernadette
To learn more about St. Bernadette and the 70 miracles approved by the Bureau, visit the Sanctuary of Our Lady of Lourdes website.