Dear Friend,
As we begin to progressively extricate ourselves from the COVID pandemic, let us continue to ask the Lord for transformation through our suffering and for closure to this challenging situation. I will continue to pray for all of you who are supporting this ministry through your prayers and gifts. It has made a huge difference to us.
Though the last year has had its challenges, it has yielded tremendous fruit for our ministry:
The creation of a new website—

PurposefulUniverse.com

. This new website complements our other two websites—MagisCenter.com (for people looking for evidence of God, Jesus, the soul, etc.) and CredibleCatholic.com (for principals, teachers, faith formation directors, directors of religious education, and parents). This website is meant to intrigue 'surfers' on the internet who have little religious commitment, giving them hints and clues from contemporary science to lead them back to God.



A new alliance with

Sophia Institute for Teachers

to enhance the marketing, dissemination, and teacher education for our middle school, high school, and parish-based apologetics programs (Giving science-based evidence for God, Jesus, the soul, and the church).



The development of a

Master Teacher Program

(with certification from Catholic Distance University) to help teachers gain confidence and competency in science-based contemporary apologetics. This is a 14-hour online course that will bring teachers up to date on the considerable science-based evidence for God, Jesus, the soul, and miracles. The content is 97% effective in helping students maintain their faith. If you want to check out the students' comments click here.


The creation of a moral apologetics program for high school students giving statistical evidence for why the church's moral teaching leads not only to spiritual, but also emotional health. It shows that going against the Church's teaching on homosexual lifestyle, transgenderism, cohabitation, and abortion (among other issues) leads to significantly increased rates of depression, anxiety, substance abuse, familial tensions, suicidal contemplation, and suicide.


I have finished

a new book

entitled The Moral Wisdom of the Catholic Church: A Defense of Her Controversial Moral Teachings which will be available through Ignatius Press around February of 2022. This will be followed by another book, entitled Science at the Doorstep to God that will be available later in 2022.
As you can see, the Lord has opened some very significant doors to help us support the faith of our young people.
Please share the above information with priests, teachers, seminarians, parents, and above all young people to help them redress the myths of our secular culture.
I want to thank you all so very much for your support in prayer and gifts that helped make these new opportunities a reality. We were overwhelmed with the response in generosity this past Giving Tuesday. If you are interested in becoming a monthly donor, or to make an end-of-the year gift, click here or at the button below.
Be assured of my prayers for you, your family, and your good endeavors. May the blessing of the incarnate Lord be upon you and your families in this advent and upcoming Christmas season.
With profound gratitude in Christ,
Fr. Robert J. Spitzer S.J., President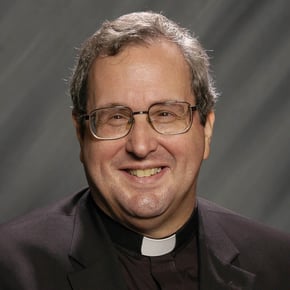 Fr. Robert Spitzer, S.J., Ph.D.
Fr. Robert J. Spitzer, S.J., Ph.D. is a Catholic Priest in the Jesuit order (Society of Jesus) and is currently the President of the Magis Center and the Spitzer Center. He has made many TV appearances including: Larry King Live (debating Stephen Hawking and Leonard Mlodinow), the Today Show (debating on the topic of active euthanasia), The History Channel in "God and The Universe," a multiple part PBS series "Closer to the Truth," and the Hugh Hewitt Show. Currently appearing weekly on EWTN in "Father Spitzer's Universe".