"Astronomy is out of sight" is not just a hip expression.
I'm referring to how blind people touch the stars and blind astronomers listen to them.
This was the case for a Spanish school for children with disabilities that asked to visit the Astronomical Observatory of the University of Valencia. Observatory employee, Amelia Ortiz Gil, went out of her way to help all the students enjoy astronomy by adapting their usual student activities to this particular group.
The Sky in Your Hands
But that is not the end of the story: she and her co-workers learned of a planetarium experience for the blind that had been developed in Argentina. This in turn encouraged them to create tactile domes of constellations and of the features of the moon and eventually of several planets. Not stopping there, they created their own planetarium experience, "The Sky in Your Hands," which debuted at an IMAX theater in Valencia. In this theater, speakers are distributed across the dome.
Linking sound to the stars
During the show, sounds are linked to particular constellations. As the members of the audience touch the constellation, the sound associated with that grouping is played by the speakers closest to its location "in the sky"—the planetarium's dome.
Apparently, audience members had their eyes opened to what must have been startling revelations! Some had thought that all the stars were packed into one spot in the sky; others who had lost sight later in life were delighted to rediscover what they had enjoyed when they had vision.
Using multiple senses
It is a well known fact in education that using multiple senses enhances a student's understanding and retention of information. It was no surprise then that the mixed audience of sighted and the blind benefitted from the tactile domes and the sounds, and even learned from each other's different sensory experiences.
Topological maps and 3D printers
One of Gil's team members created a software program called Mapelia which can take any map and convert it into a tactile experience using 3D printers. Commenting on the work that produced these tactile representations of the moon, and now the Earth, Mercury, Venus, and Mars, Gil said,
"Making the models helped me to better understand the surface of these planets…. we are giving people tactile models of things that nobody can see, neither blind nor sighted people."
(For the full article, go here. For any of the products mentioned, go to A Touch of the Universe.)
Listen to the universe
It is wonderful to create a planetarium experience for the blind, but what do you do if you start to lose your sight while studying as an undergraduate to be an astronomer? This is exactly what happened to Wanda Diaz Merced while studying at the University of Puerto Rico. Her impaired vision did not cause her to lose sight of her goal—to study the universe.
Encouraged by a mentor at an internship at NASA's Goddard Space Center, she became a pioneer in sonification, the process of turning large data sets into sound. In 2013, she earned her doctorate from the University of Glasgow with the thesis Sound for the exploration of space physics data. Since then, she has worked at the South African Astronomical Observatory in Cape Town.
In 2016, she delivered a TED talk which has become one of their most watched astronomy videos. Her data sets include brightness, wavelength, position, and other temporal information which are converted into pitch, loudness, or rhythm changing over time.
Wanda narrates her story in this fascinating short film which is accompanied by the "music of the spheres"--the actual sounds she assigned the data she studies.
Out of sight does not mean out of mind
As Gil discovered by using 3D representations of the constellations and planets, incorporating other senses into the study of "noisy" data has aided Diaz-Merced in her analysis. She reports:
"I keep vigilant for the unexpected. Sensitivity to events increases when you use sound. In noisy data, those in our studies identify more peaks, dips, and pulses than just with sight."
We can all be inspired by Wanda's story of courage, determination, and creativity in her desire to pursue an understanding of the universe.
Follow the star
At this time of year, we can be inspired also by other astronomers who gazed at the heavens and saw signs and patterns in the stars announcing the birth of a king.
The infancy narrative informs us that wise men from afar "saw his star rising in the east." They set out to seek this new King with courage and determination and were filled with joy and wonder at finding Him.
May your journey through Advent to the manger bring you the same joy and wonder as you hear the angels sing, "Gloria in excelsis Deo!"
Read Also: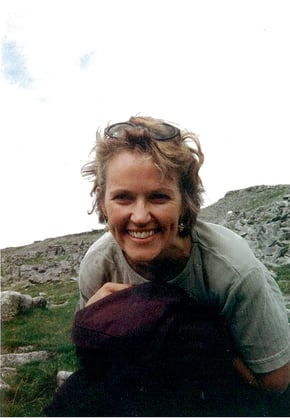 Maggie Ciskanik, M.S.
Armed with a B.A. in Philosophy and a minor in science, Ciskanik landed in a graduate nursing program. With the support of her enthusiastic husband, an interesting career unfolded while the family grew: a seven year stint mostly as a neurology nurse, 15 years as a homeschooling mom of six, and a six year sojourn as curriculum developer and HS science teacher (which included teaching students with cognitive differences). These experiences added fuel to her lifelong interest in all things related to God's creation and the flourishing of the human spirit—which has found a new home on the Magis blog.