Fr. Spitzer was evaluated on Monday for an experimental procedure that could help restore his eyesight, which has been gradually worsening due to retinitis pigmentosa. This procedure could potentially restore his vision to 20/500, which, according to Fr. Spitzer, "is hugely better than what I have now".
The procedure requires the use of stem cells which have been taken from his arm and will be cultivated into retinal tissue. It is not yet approved by the FDA, so it may take up to 2 years to actually receive the transplant. However, Fr. Spitzer says, "This is not totally bad news because the procedure gets better every year and I get blinder every year -- which moves me up on the waitlist."
Fr. Spitzer remains in good spirits and states:
"Thank you all for your prayers and good wishes. I am sure the Lord will have some additional good graces for me during my years of additional near blindness -- so I am not disappointed. As I always say, God does hugely good things through little sacrifices. God bless you all!"
Fr. Spitzer will return for a second evaluation next November.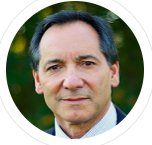 J. G. Miller
Purposeful Universe Project Lead and Director, Media and Communications, The Magis Center