Last Monday (11/13/2017) at the USCCB's annual meeting in Baltimore, the Magis Center hosted a luncheon attended by Cardinal William Levada and 34 US Bishops.
The Bishops were served a 3 course luncheon as Fr. Spitzer and members of the Magis staff presented a new supplemental program for youth confirmation called 7 Essentials. Meant to augment existing confirmation programs, 7 Essentials focuses on the issues that are causing a growing number of young people to abandon religion.
7 Essentials: An Augment To Existing Confirmation Programs
Successive PEW surveys have shown that religion is on a steep decline. Young people are particularly hard hit. Currently, those aged 18 – 29 select "none" as their religious affiliation 40% of the time. This is up from 23% in 2006, and, at the current growth rate, will climb to 50% in 7 years if left unabated.
This mass exodus is being driven by secular myths that misstate and/or misrepresent the facts. Briefly stated, the four primary myths are:
Science has proven God does not exist.
Humans are just a bunch of conglomerated atoms and molecules – there is no evidence for a transcendent soul that will survive bodily death.
Suffering proves God does not exist. If God was all loving and all powerful he would and could stop suffering.
Jesus may have been a very special person but he certainly was not divine. There is no real proof of his miracles or resurrection.
The 7 Essentials curriculum refutes these claims through a series of engaging power point presentations and written materials (full text and summaries). The Magis Center is offering the curriculum (and training on how to use it) at no cost to interested parishes and schools.
Out of the 34 bishops 22 have already expressed interest in using 7 Essentials in their dioceses.
To learn more about the 7 Essentials email info@www.magiscenter.com.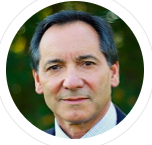 J. G. Miller
Formerly a marketing and product executive for early stage technology companies, Joseph G. Miller made the transition to full time Catholic evangelization in 2007. Prior to joining Magis he served as a vice president and board member for the Fellowship of Catholic University Students (FOCUS). With Magis, Joe leads the organization's digital outreach. He also serves on the Magis Center's Board of Directors, He holds a Master of Arts in Philosophy from Holy Apostles College and Seminary in Cromwell, CT and a Master of Arts in Theology from Notre Dame Graduate School in Alexandria, VA.