Science has lost one of its greatest minds and most popular ambassadors with the death of eminent physicist Stephen Hawking. As I'm sure readers know by now, Hawking passed away early Wednesday morning at his home in Cambridge, England at the age of 76.
Famous for his breakthroughs on the topics of relativity and black holes, Hawking was greatly respected in the scientific community. Many have spoken out on his passing, including the director of the Vatican Observatory, Jesuit Father Guy Consolmagno who said "We mourn the death of Stephen Hawking, a scientist of admirable perspicacity, who was even extraordinarily capable of giving a human face to cosmology and astronomy,"
Our own Fr. Spitzer had the opportunity to discuss the creation of the universe with Hawking collaborator and co-author Leonard Mlodinow and Deepak Chopra on a September 2010 episode of Larry King. Immediately prior to the panel discussion, Larry King interviewed Stephen Hawking. The interview and panel discussion are still fascinating and extremely relevant today.
In reflecting on the Larry King episode Father Spitzer said the following, "Although Stephen and I differed profoundly on the nature of ultimate reality and meaning, I've always respected his scientific accomplishments and admired his courage and perseverance in the face of physical hardship."
Our thoughts and prayers go out to the Hawking family: Eternal rest grant unto him, O Lord.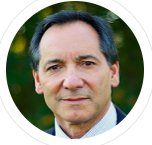 J. G. Miller
Purposeful Universe Project Lead and Director, Media and Communications, The Magis Center