Dear Friends,
I want to wish you a blessed and merry Christmas and share a message about trusting in God.
Everyone who experienced 2020 will forever remember it as the year of the pandemic. Thankfully a lightning response by the international medical and scientific community means that we could be just months away from returning to a semblance of normalcy. But because our mortal existence is transitory (changing like the weather), there will obviously be more challenges ahead. So how can we prepare for an uncertain future?
We desperately need something permanent to anchor our lives. Here in this season let me offer the Christ-child as that solid foundation. Based on Luke's infancy narrative, Mary and Joseph's circumstances leading up to Christ's birth were very difficult; but in the midst of fear and uncertainty, Mary held on to the message of the angel.
Behold, you will conceive in your womb and bear a son, and you shall name him Jesus. He will be great and will be called Son of the Most High, and the Lord God will give him the throne of David his father, and he will rule over the house of Jacob forever, and of his kingdom there will be no end. —Luke 1:31-34
Mary clung to the fact that God would not make such a promise and then abandon her. She knew that, despite their inability to find a suitable place to give birth to Jesus, God would provide. You know the rest of the story, but it's worth pointing out that Mary must have recognized the angelic message to the shepherds as confirmation of Gabriel's prophecy to her.
The angel said to them, "Do not be afraid; for behold, I proclaim to you good news of great joy that will be for all the people. For today in the city of David a savior has been born for you who is Messiah and Lord." —Luke 2:10-11
Because of her faith Mary, was able to endure life's trials and tribulations all the way to Calvary. She is the woman of Faith who models for us how trust in God can sustain and edify us through a pandemic, cultural unrest, political turmoil, and everything else that 2020 threw at us.
My prayer for you this Christmas season is that you can step far enough back from the current challenges to reflect on God's providential plan for your life. You might not hear directly from an angel, but I'm confident that Christ will somehow let you know that he loves you and is leading you to peace and joy.
May God bless you and your families during this Christmas season.
Father Robert Spitzer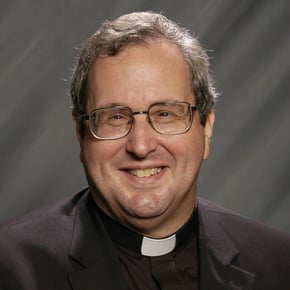 Fr. Robert Spitzer, S.J., Ph.D.
Fr. Robert J. Spitzer, S.J., Ph.D. is a Catholic Priest in the Jesuit order (Society of Jesus) and is currently the President of the Magis Center and the Spitzer Center. He has made many TV appearances including: Larry King Live (debating Stephen Hawking and Leonard Mlodinow), the Today Show (debating on the topic of active euthanasia), The History Channel in "God and The Universe," a multiple part PBS series "Closer to the Truth," and the Hugh Hewitt Show. Currently appearing weekly on EWTN in "Father Spitzer's Universe".